La seconda puntata della nona stagione di The Walking Dead  inizia con un racconto di Rick.
Le sue parole indirettamente ci spiegano come oggi TWD non sia più la serie dedicata alla sopravvivenza dell'essere umano in un mondo apocalittico dominato dai vaganti ma quello di un mondo che rinasce, si ricostruisce e prova a darsi nuove regole.
Anche la ricostruzione di un ponte acquista, in questo contesto, un significato particolare rappresentando un passo importantissimo per mettere in collegamento le diverse colonie.
Il mondo che Rick sta provando a costruire, però, come si è visto anche nel primo episodio di questa stagione, sta generando nuove minacce.
Le incomprensioni, le discussioni e gli scontri con Maggie e Daryl risultano sempre più, e direi purtroppo, non dettate dal bisogno di esibizionismo ed emancipazione dei due ma da una lettura diversa dalla realtà.
Con il passare del tempo la convivenza forzata per ricostruire il ponte accentua dissapori e contrasti.
Non tutti i Salvatori hanno consapevolezza di quello che sta succedendo e vivono la situazione con sempre maggiore fastidio e intolleranza. Questo gruppo, che era abituato a essere gestito da Negan e Lucille,  non riesce a diventare una comunità nè tanto meno a legare con le altre persone.
L'egoismo e l'arroganza di chi è abituato a trattare gli altri con superiorità mettono a rischio la situazione sul ponte.
Le prime scintille si sono già viste e, mentre mandrie sempre più numerose di vaganti si muovono vicino alle comunità, il primo sangue è stato versato. Questa situazione esplosiva è vissuta e percepita pienamente da Daryl e Maggie mentre Rick continua a non voler capire e vedere.
A questo quadro si aggiungono diversi piccoli tasselli che complicheranno ulteriormente lo scenario. Come nel gioco degli scacchi tutte le pedine sono state posizionate e i primi pezzi stanno iniziando a cadere.
Tutti questi amori, queste relazioni che ci vengono mostrate in queste puntate non hanno nessuno scopo se non quello di prepararci al dolore e alla sofferenza che giungerà a metà stagione.
Le regole su cui si basava The Walking Dead sono cambiate e gli eventi potranno prendere pieghe veramente inaspettate.
La puntata termina con il racconto di Rick e scopriamo a chi si sta rivolgendo vedendo Negan prigioniero che gli sorride beffardo.
Rick e Negan vedono il futuro in modo differente. Vogliono costruire un futuro differente e il sorriso di Negan alla luce di quanto visto e narrato in queste due puntate acquista un senso ancora più inquietante.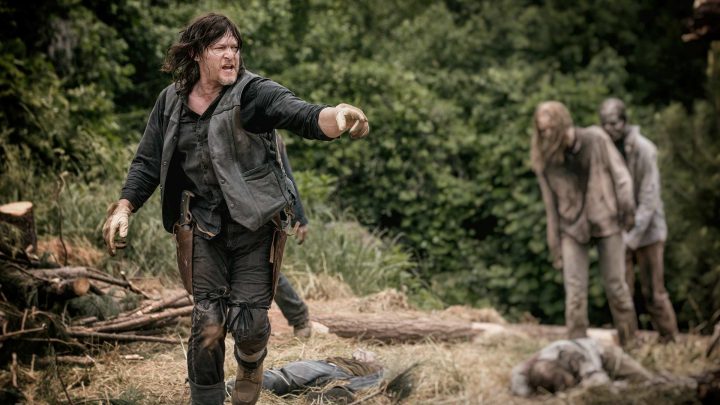 Possibile che anche lui, come Maggie e Daryl, riesca a percepire la tempesta in arrivo e di cui Rick continua a non cogliere i segni evidenti?