The Mist: tiriamo le somme
E' giunta al termine la prima (e forse ultima) stagione di The Mist, serie che ci ha accompagnato in questa torrida estate. Al contrario di tutti gli altri riadattamenti televisivi e cinematografici dei lavori di Stephen King, The Mist è un vero e proprio flop. Se i film del Re dell'horror sono attesissimi sullo schermo (e quest'anno ce ne sono molti), la serie tv sulla nebbia non ha riscosso un gran seguito, tant'è che anche l'ipotesi di una seconda stagione è in forse.
La serie non ha avuto un budget elevato, direi che è piuttosto palese: dalla grafica computerizzata, alle inquadrature, alla trama che lascia qualche dubbio. Tutto fa pensare a una serie di serie B. Dopo tutto questo, non sono mancate le polemiche da parte del pubblico, ma io vorrei spezzare una lancia a favore di The Mist.
E' vero, la serie non è riuscita a far breccia nei cuori degli spettatori per forse la poca cura nei dettagli, e, già detto, lo scarso budget. In molti hanno definito la serie "non horror" ma il punto è che The Mist voleva mostrare un lato dell'orrore diverso rispetto a quello scaturito dalla nebbia. L'orrore rappresentato in queste dieci puntate riguarda quello che proviene dall'essere umano. Ciò che dovrebbe far "paura" è ciò che si nasconde negli uomini, non nella nebbia. Di puntata in puntata abbiamo assistito ad un crescendo di violenza e follia, che ha portato i protagonisti a ribaltare il loro ruolo e la loro personalità.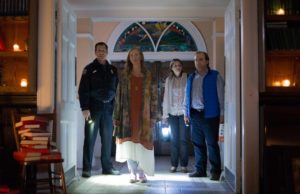 The Mist è una serie (stagione) incentrata sulle persone, sui loro problemi e relazioni. Però è stato deludente non sapere quasi nulla sulla nebbia, anche perchè la rappresentazione data fino alla fine non coincide con quella data nell'ultima puntata.  Fino all'ultima puntata sembrava si facesse anche portavoce ambientalista, ma poi Natalie è impazzita e si è scoperto che la nebbia era opera dell'esercito.
La puntata finale non mi è dispiaciuta, anche se non tutte le cose successe erano ben chiare. Chi era il bambino che Natalie ha allattato prima di morire? E perchè Adrian è stato preso da Jonah e dal suo collega? Nonostante queste domande, non ci sarebbe bisogno di una seconda stagione, non ha lasciato nello spettatore il senso di vuoto e bisogno di sapere. E' una stagione che si può terminare con tranquillità, senza i traumi che caratterizzano la vita dello spettatore di serie tv medio. Quindi, The Mist, grazie per la compagnia, ma può anche finire qui.