La nuova stagione di The Walking Dead è iniziata in modo strano. Pochissimi i dialoghi, pochissima introspezione, quasi a voler bilanciare quanto avvenuto durante la precedente stagione. Tutta la prima puntata si concentra sull'attuazione del piano per distruggere Negan e i Salvatori. Un piano di cui non siamo a conoscenza ma che vediamo svilupparsi passo dopo passo, come punti di una lista che vengono cancellati. Il senso di straniamento viene accentuato grazie a una serie di, si presume, flashforward che ci mostrano, in alcuni casi, un Rick stanco e provato e in altri uno più anziano e zoppo che vive in una Alexandria prospera e rigogliosa. Questi salti temporali dal sapore onirico ci forniscono un punto di vista differente sullo scontro che sta per svolgersi. Rick e i suoi vinceranno, hanno già vint,o come viene detto durante la puntata, a quale prezzo è tutto ancora da scoprire.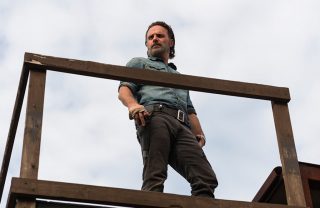 Questo episodio è particolarmente importante perché è il centesimo della serie. La AMC ha deciso di celebrare questo avvenimento riempiendo la puntata di riferimenti alle origini della serie tv. La sequenza in cui Carl cerca la benzina in un distributore abbandonato, il ruolo centrale di Morgan, il flashforward con il risveglio di Rick, la ripresa aerea del container circondato dalla mandria di zombie. Per un fan di lungo corso è facile ritrovare tutti i riferimenti. Più difficile è riconoscere gli zombie che sono già apparsi nelle precedenti puntate. Vi ricordate del primo zombie a cui spara Rick all'inizio della serie? Era una bambina zombie. Nel centesimo episodio l'attrice torna a vestire i panni di una non morta per poter ricevere nuovamente la grazia dal nostro leader.
La guerra totale si svolgerà in modo diverso da quanto raccontato nella serie a fumetti da cui è tratta la serie tv. L'avevamo già intuito con il passaggio di Eugene tra le file di Negan, l'avevamo constatato, a volte con fastidio, durante tutta la settima stagione, ritenuta da alcuni troppo lenta, l'abbiamo visto con questo primo episodio di stagione. Potrebbe succedere di tutto, e la notizia non ufficale che sta girando in queste ore conferma questa ipotesi.
Purtroppo in questa puntata Michonne è più una casalinga che la samurai a cui eravamo abituati, trattamento migliore senza dubbio di quello riservato a Rosita, che appare muta e ferita seduta sulla veranda di casa ad Alexandria.
Forse l'elemento più inquietante di tutta la puntata è affidato alla sottotrama in cui Carl cerca di stabilire un legame con uno sconosciuto incontrato alla stazione di benzina.
Cosa sei disposto a fare per sopravvivere? Cosa sei disposto a fare per far sopravvivere i tuoi cari, la tua famiglia? Facile rispondere a queste domande quando ci si trova davanti a dei vaganti, più difficile quando ci si trova davanti a un altro essere umano. Lo sa e lo sta per scoprire a proprie spese padre Gabriel.
Questo è il cuore di The Walking Dead che più che una serie sugli zombie (se così fosse non sarebbe mai arrivata all'ottava stagione) è una serie sull'essere umano, sulle sue capacità di adattamento e sopravvivenza.
Vi ricordate degli abitanti di Terminus, del Governatore e di quel gruppo di persone con cui ha vissuto per un po' di tempo Daryl durante la quarta stagione? Tutti casi in cui l'istinto di sopravvivenza si è tramutato in brutalità trasformando le persone in mostri ben peggiori degli zombie.
Possa la mia misericordia prevalere sulla mia ira, dice un Rick allucinato in uno dei flashforward durante la puntata. Perché sopravvivere è fondamentale, ma se lo si fa perdendo la propria umanità, la propria capacità di amare, di sognare e di sperare allora si è solo dei morti che camminano.
Quando guardi a lungo nell'abisso, l'abisso guarda dentro di te, questo è il segreto di The Walking Dead. Come un incidente sull'autostrada ci costringe a rallentare, a guardare con curiosità, orrore e paura e riflettere sulla fragilità delle nostre esistenze.