Fear the Walking Dead è una serie televisiva spin-off e prequel della serie televisiva The Walking Dead, basata sul fumetto omonimo di Robert Kirkman, Tony Moore e Charlie Adlard.
Arrivata ormai alla quinta stagione FTWD nel corso degli anni ha provato ad approfondire aspetti e tematiche del mondo di TWD partendo proprio dalle prime ore in cui si diffuse l'epidemia. Nel corso degli anni la serie è cresciuta in autonomia e concretezza regalandoci, oltre a nuove ambientazioni, ricche di angoscia e terrore, anche personaggi molto belli e tridimensionali. Personaggi che come di consueto nella tradizione della serie madre sono stati lentamente e inesorabilmente eliminati facendo posto a nuovi personaggi.
Madison, Travis, Nick, Liza, Ofelia e Chris ci hanno lasciato lentamente e apparentemente senza fare rumore. Anche se in alcuni casi la loro mancanza continua a farsi sentire.

La vera e propria svolta della serie è avvenuta nella quarta stagione con un principio di cross-over tra le due serie e l'aggiunta di Morgan al cast di FTWD.
Fear The Waking Dead con la quarta stagione cambia faccia, rinnova quasi interamente il suo cast e abbandona il formato della "famiglia allargata" per immergersi in nuovi temi e ambientazioni.
L'arrivo di Morgan travolge la serie e la trasforma, il legame con The Walking Dead viene lentamente reciso, puntata dopo puntata, l'identità di Morgan e di FTWD mutano radicalmente alla ricerca di strade diverse e di un racconto, di speranza e orrore, proprio.
La quinta stagione, attualmente in programmazione e ormai vicina alla pausa di mid season, ha tentato di portare avanti il racconto seguendo questa nuova traccia (si pensi all'inserimento di un altro personaggio storico di TWD, Dwight) ma, al momento, non è riuscita a raggiungere gli stessi risultati.
Alcuni episodi di questa stagione sono stati molto interessanti e piacevoli e mi sento sicuramente di segnalarvi i tre che mi sono più piaciuti e perché:
il terzo episodio (Humbug's Gulch) con una simpatica rivisitazione wester dell'apocalisse in atto e l'introduzione di Dwight alla ricerca della sua Sherry
il quinto episodio (The End of Everything) dove ci vengono date maggiori informazioni sulla comunità che usa gli elicotteri [quella per intenderci che ha rapito il nostro Rick Grimes]
il settimo episodio (Still Standing) perché le acque iniziano a farsi più torbide e scure. Morgan capisce che cercare sempre di aiutare gli altri, a tutti i costi, spesso mettendo a rischio anche la propria vita è solo un modo come un altro per fuggire dai propri problemi e dalle proprie paure.
Gli altri episodi non sono brutti e neanche necessariamente scontati ma hanno un ritmo molto più rilassato (colpa di Jimbo e delle sue birre?).
Per l'ottavo episodio (quello che siglerà la pausa estiva) sembra che gli autori abbiano in mente di eliminare un altro personaggio storico della serie.
Vedremo se questa intuizione si rivelerà esatta o sarà solo un trucco per sorprendere gli spettatori e spingerli ad attendere l'11 agosto, data in cui riprenderà la quinta stagione.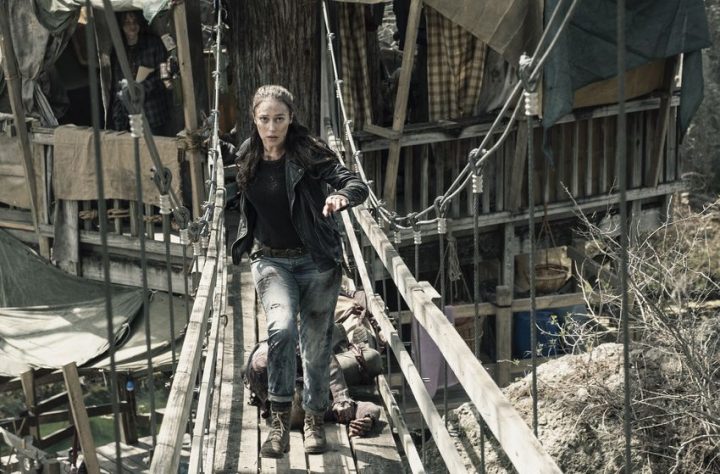 In entrambi i casi Fear The Walking Dead è una serie da guardare con attenzione e curiosità. Che si ami The Walking Dead o meno.