Questa stagione sembra "muoversi" più lentamente delle altre. Manca forse la voglia di June di lottare, oppure, imparando dei suoi errori, sta ponderando meglio le sue decisioni.
Gilead è costruita dagli uomini per gli uomini e di certo una ennesima insubordinazione le costerebbe cara, oltretutto non c'è né Nick né Mr. Waterford a proteggerla.
Serena non sembra essere stata convinta al 100% dalle parole di June e non è ancora pronta a ribellarsi.
ATTENZIONE: SPOILER
La quarta puntata si apre con la parata di donne e uomini, suddivisa per classi, verso la celebrazione della nascita dei nuovi bambini (una sorta di battesimo), ma la musica suggerisce più che un momento di gioia, un funerale. Un flashback ci riporta al battesimo di Hanna, la primogenita di June, e si mettono a confronto le due cerimonie.
Le Handmaids che hanno partorito vengono messe in posizione d'onore, ma non sono loro a tenere in braccio i loro bambini, bensì le donne a cui sono stati destinati. Per quanto ancora queste donne sopporteranno tale abuso? Loro devono dimenticare… e chi non riesce a staccarsi dal proprio figlio subisce delle gravi conseguenze.
Forse il gesto più drammatico di tutta la puntata è stata la dolcezza di Janine, che voleva solo restare accanto a sua figlia, e che viene brutalmente picchiata da Aunt Lydia per non essere rimasta al suo posto. Più di una volta Janine ha tentato di riprendersi la figlia, anche provando a suicidarsi con la piccola in braccio. Questa volta aveva semplicemente chiesto di essere nuovamente accolta in quella casa e dare alla luce altri figli.
La furia di Aunt Lydia viene fermata da June che protesta per la punizione. È qui che la Zia si blocca e per un attimo sembra tornare umana, come se la nebbia che le offuscava gli occhi a poco a poco si dissolvesse. Aunt Lydia sta forse iniziando ad avere dei ripensamenti sulla gestione di Giliad? Per la prima volta si rende conto di fare del male a quelle ragazze. Non solo. Un attimo dopo essere entrata in casa Putnam per l'invito al rinfresco, Aunt Lydia viene condotta in una stanza secondaria insieme alla Handmaids, perché infatti, pur essendo state invitate, non possono mangiare insieme alle persone di alto rango, e questo vale anche per Lydia che non è considerata al pari livello degli altri.
Dal mio punto di vista l'anziana donna nelle prossime puntate ci darà delle soddisfazioni…
June cerca nuovamente di spronare Serena, ma lei sembra disinteressata. Mr. Waterford è inviene il suo nuovo bersaglio. Sa che può far breccia su quell'uomo perché ora è fragile senza la moglie al suo fianco. Solo sul finale Serena si accosta a June e le rivela come può avvicinarsi a sua figlia Hanna. Forse una prova di coraggio?
Cosa ne pensate dell'episodio? Fateci sapere nei commenti…
Giulia Guglielmi Maes
Riassunto The Handmaid's Tale 3×04 – God Bless The Child
È il giorno della celebrazione dei nuovi nati a Gilead e tutti si recano nella chiesa. I posti a sedere sono divisi per classi sociali. Alle Handmaids spettano i posti nella balconata alta e tra loro, quelle che hanno già dato a Gilead dei figli, siedono davanti.
Dopo la cerimonia, un gruppo di Handmaids con Aunt Lydia è invitato al rinfresco in casa Putnam. Non possono però usufruire del buffet con gli altri e devono accomodarsi in una stanza secondaria.
Serena Parla con June, le donne ancora la rispettano e attendono che lei torni ad essere il loro punto di riferimento, la loro guida.
Mr. Waterford vede June e la raggiunge, chiedendo alle altre di uscire dalla stanza. L'uomo rivela di non sapere come comportarsi con la moglie, che non intende rivolgergli la parola. June suggerisci di concederle più libertà.
Intanto in Canada, Emily va a casa della ex compagna dove ritrova suo figlio.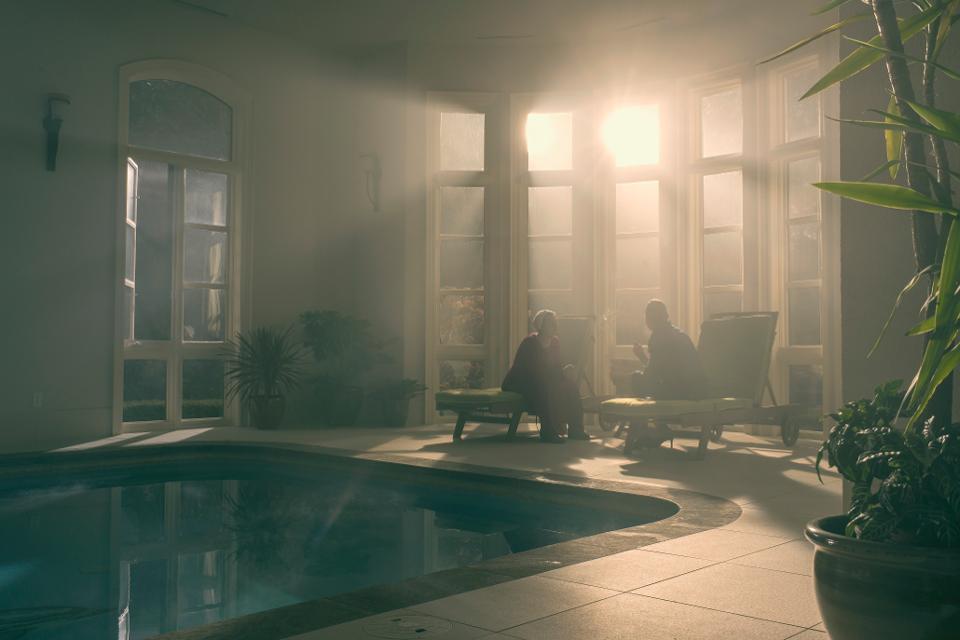 Serena e June si ritrovano a bordo piscina della villa Putnam. La Handmaid rivela di aver parlato con il marito e di aver suggerito di dare più libertà al loro matrimonio. In questo modo lei può avere più potere e avere accesso a molte informazioni. Poi le due si rilassano e fumano insieme.
Janine entra nella stanza per vedere la sua bambina. Mrs Putnam le concede di tenerla in braccio per un attimo. La ragazza si commuove restituendo indientro la piccola Angela e poi chiede di essere riammessa in quella casa dando alla luce nuovi figli in modo da rimanere a contatto con la bambina. Questo suo gesto viene brutalmente punito da Aunt Lydia che inizia a picchiarla senza pietà. Interviene June che blocca la donna, la quale chiede scusa del suo gesto ed esce dalla stanza piangendo.
La polizia di Gilead porta un tablet a Serena e Fred dove in un video girato in Canada si vede la figlia Nichole in braccio a Luke, marito di June. Viene convocata anche la Handmaid la quale conferma essere suo marito. Adesso sa che sua figlia è finalmente salva.
Quando il gruppo di Handmaids è pronto a partire, Serena si accosta a June dandole una informazione importante sulla figlia Hanna.