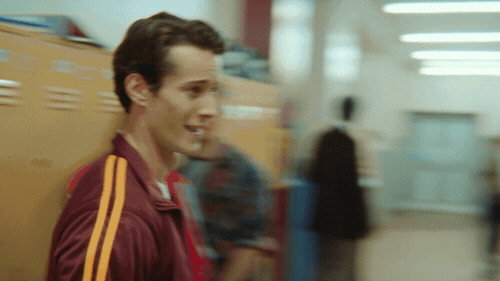 Di roba "teen" su Netflix ne gira parecchia e dopo "Le terrificanti avventure di Sabrina" arrivavo a questa nuova serie a dir poco scoglionata – soprattutto perché  "The end of the fucking world" (*) continuava a riconfermarsi come unica vera perla in un mare di luoghi comuni – ma ho dovuto ricredermi, Sex Education è sì una serie "teen", ma fa il suo sporco dovere, parlare di sesso, e lo fa con garbo, spigliatezza e una buona dose di leggerezza.
I protagonisti sono un variegato gruppo di sedicenni britannici, calati, però, in un contesto americano come l'high school. L'ambientazione merita, di fatto, una menzione speciale, perché molto peculiare, e crea volutamente un effetto straniante, da un lato l'accento marcatamente britannico, dall'altro lato il liceo americano (il ballo di fine anno, gli armadietti metallici sul lungo corridoio e via dicendo); ma non solo, pur essendo una serie contemporanea spiazza con delle chicche retrò – e qui strizza molto l'occhio ai trentenni di oggi: la radiolina che spara a palla Boys don't cry, gli a-ah, ma anche la mise di Otis-Ian Curtis col poster dei Joy Division appeso in camera. Come se non bastasse la colonna sonora è targata Ezra Furman, uno che ne sa e che amorevolmente ci sbatte in faccia "Love you so bad" nei primi dieci minuti (vd alla voce rantolare sul pavimento in posizione fetale).
Questi aspetti, a mio avviso, rendono quest'ultima trovata firmata Netflix una bella serie che coinvolge più generazioni: vent'anni fa avevamo Dawson Creek che la toccava molto piano, in maniera estremamente bigotta e più che qualche bacio non regalava (al di là della gloriosa canzone che ancora ci perseguita sotto la doccia), adesso c'è Sex Education, che è tutto un mondo a parte, per gli adolescenti di oggi, ma anche per i trentenni e passa – fondamentalmente perché nel sesso non si finisce mai di imparare, divertendosi of course.
Con queste premesse è difficile non proseguire nella visione.
I protagonisti si imbattono nelle prime esperienze sessuali e gli argomenti affrontati sono tanti e tutti molto validi, interessanti: verginità, aborto, omosessualità, masturbazione (udite udite: pure quella femminile!), ma anche bullismo, cyberbullismo, patriarcato, la libertà di truccarsi e travestirsi, la libertà di non doversi per forza riconoscere in un genere – molto bella a proposito di amicizia en travesti la puntata in cui Eric e Otis si travestono per lo spettacolo di Hedwig and the Angry Inch (che in Italia è pressochè sconosciuto).
Otis sta un po' al centro di tutto, attorno a lui gravitano le diverse storie amorose e non, dispensa consigli, combina casini su casini, è impacciato, ma ha intuizioni brillanti, soluzioni efficaci ed è uno su cui puoi sempre contare, o quasi. Non starò a dilungarmi su di lui, perché Asa Butterfield  si è cucito il personaggio addosso così bene che non ha bisogno di presentazioni, basta guardare la prima puntata e godersi lo spettacolo.
In sintesi, e senza spoilerare, ciò che rende Sex Education gradevole e mai scontata è il modo in cui si relaziona a temi importanti, fondamentali, ma non per questo meno scottanti (soprattutto in Italia, dove oltre i Cesaroni – madre mia! – pare non si possa proprio andare). Certo non possiamo delegare a una serie tv un ruolo educativo e ovviamente la complessità del reale ne rimane esclusa, ma va riconosciuto il coraggio e la curiosità nell'affrontare argomenti ancora tabù. Ribadisco non aspettatevi un documentario sull'interruzione volontaria di gravidanza o sull'omosessualità, bensì una serie fresca, genuina, che gioca d'astuzia con la banalità americana, la ridicolizza e nel mentre affronta l'inclusione del diverso, proprio sfruttando il periodo diverso per eccellenza: l'adolescenza. Tutto questo senza mai scadere nel banale e negli stereotipi, okay, magari qualche luogo comune c'è, ma i personaggi sono autentici, sinceri, il loro struggimento è reale come reali sono i loro desideri e i sentimenti; i dialoghi sono simpatici e veloci, le scene efficaci, è tutto rifinito a puntino e si nota che dietro c'è stato un lavoro certosino per pulire e tagliare, il risultato è una serie estremamente godibile che parla agli "adult-teen".
Anzi, parla un po' a tutti perchè affronta il sesso in maniera libera e scevra da pregiudizi: buona visione!
So let's sink another drink
Cause it'll give me time to think
If I had the chance I'd ask the world to dance
And I'll be dancin' with myself
(*) TEOTFW è disincantato proprio perchè è incantevole, in poche parole è punk.
PS: Se a fine visione avrete apprezzato la serie e vorrete concedervi qualche approfondimento ho alcuni suggerimenti:
– "Hedwig, La diva con qualcosa in più", 2001;
– "My Beautiful Laundrette", 1985 per i più nostalgici;
– per i patiti di musica c'è già pronta la colonna sonora qui o là
– e se vorrete approfondire il tema dell'ivg (che alcuni hanno criticato per essere stato affrontato all'acqua di rose) vi suggerisco di guardare le stories di le_sex_en_rose su instagram perchè ha avviato un bellissimo confronto civile a riguardo.