In occasione dell'uscita del suo ultimo film:" Ritratto Di Famiglia", vi proponiamo la recensione di Little Sister (sua penultima pellicola).Dopo il successo di "Father And Son" il cineasta giapponese Hirokazu Kore'eda continua la sua poetica in cui i legami familiari sono al centro del suo sguardo personale.
Dopo l'assenza di 15 anni dal loro padre, tre sorelle vengono a conoscenza del funerale del loro genitore e recatesi sul luogo della cerimonia funerea incontrano la loro sorellastra Suzu, la quale si unirà all'equilibrio delle tre sorelle maggiori. Dalla fine di una vita ne subentra una nuova all'interno del ritratto famigliare composto fino al quel momento da Sachi, Yoshino e Chika, le quali sono molto diverse tra loro ed unite moltissimo a causa dell'assenza del padre, in questa vicenda però diventa sinonimo di abbandono e ricongiungimento.
Fin da subito Hirokazu Kore'eda descrive non solo con la sceneggiatura ma anche con la messa in scena la psicologia dei personaggi, i quali si differenziano per approccio alla vita creando una dinamica interessante nel quadro famigliare nel quale riconosciamo la capacità notevole del montaggio che riserva il giusto spazio alle varie problematiche della vicenda. In tutte le famiglie c'è bisogno di una guida, una fonte di esperienza nella quale le persone meno mature possono avere sostegno morale; nella narrazione della pellicola questa figura genitoriale viene affidata a Sachi, la quale soffre ancora molto dall'allontanamento della madre, addossandosi il ruolo genitoriale.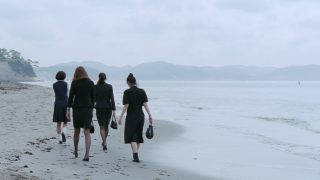 La fotografia in ogni inquadratura restituisce l'accoglienza e la solarità di un buon nucleo famigliare, anche se leggermente piatta essa funziona con le sue tonalità dal sapore caldo e avvolgente. Un altro tema affrontato dalla pellicola è la separazione, essa non solo trasforma le persone ma cambia completamente un nucleo famigliare sconvolgendo l'equilibrio affettivo. La pellicola viene condotta con un ritmo lento, essa vuole coinvolgerti con la sceneggiatura delicata come le inquadrature che scorrono sullo schermo; un lungometraggio non per tutti per via dell'attenzione costante alle emozioni provate dalle protagoniste. Meno potente di "Father And Son" ma pur sempre un buona pellicola diretta da un cineasta interessante.