La serie, ripresa dall'omonimo film uscito qualche anno fa in America e non molto conosciuto in Italia, si sviluppa all'interno di una fittizia università americana, la Winchester University, composta prevalentemente da studenti bianchi e ricchi. In questo ambiente le differenze razziali sono molto forti e gli studenti afro-americani, emarginati dal colore della pelle, sono costantemente sottoposti alle pressioni di ciò che possono e non possono essere.
La protagonista, dal curioso nome, Samantha White (Logan Browning) è una ragazza afro-americana, impegnata attivista e volto rivoluzionario della Black Student Union, un'organizzazione che vede uniti ragazzi di colore con l'intenzione di rivendicare i propri diritti. Sam conduce un programma radiofonico chiamato "Dear white people" in cui denuncia a suon di battute ironiche e forti gli abusi subiti ogni giorno. Ecco un piccolo esempio:
 "Dear white people, here's a little tip. When you ask someone who looks ethnically different, 'What are you?,' the answer is usually, 'A person about to slap the shit out of you.' "
Dall'altra parte abbiamo Kurt Fletcher, il leader di un satirico giornale bianco chiamato Pastiche che decide di organizzare un Black-Faced Party, definito dalla voce narrante, che racconta gli avvenimenti, come una festa dalla poca sensibilità razziale. Da qui inizia la storia che vedrà crescere un confronto-scontro sempre più intenso tra le due fazioni. A rendere più complicata la vita nel campus saranno inoltre intrecci amorosi e di potere, amicizie, rapporti familiari ed eventi imprevisti.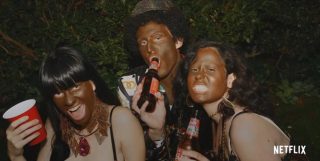 Dear White People non è un show che riguarda solo la razza ma riguarda l'identità. Cosa pensiamo di essere, come siamo influenzati dalla comunità a cui apparteniamo, come la società influenza il nostro modo di comportarci. È la rappresentazione di una moltitudine di personalità, alcune in crisi e altre in cerca di chiarezza, e saggiamente si è scelto di affidare ogni episodio al punto di vista di un personaggio specifico. Può capitare che alcune scene siano ripetute, ma ogni volta aggiungiamo un piccolo pezzo al nostro puzzle.
Spesso si pensa, in maniera particolarmente ottimista, che i giovani siano più abituati a vivere in contesto socialmente vario sia dal punto di vista che etnico che sessuale, ma queste serie vuole dimostrarci come tutto ciò non sia affatto scontato. (SPOILER: Samantha stessa avrà dei problemi con la sua migliore amica e la comunità universitaria per il semplice fatto di frequentare un ragazzo bianco).
Secondo i miei gusti personali non è uno dei migliori prodotti Netflix ma rimane comunque una serie che merita di essere vista soprattutto da un pubblico giovane che forse riuscirà ad apprezzarla di più. Nota di merito alla recitazione: gli attori sono semisconosciuti ma le scene sono cariche di tensione ed espressività.